Once you've logged into SalesIntel and selected the contacts you wish to export, follow the given steps:
1. Click on Bulk Actions on the top left, select 'Export to HubSpot' from the drop-down menu.
2. You'll be asked to log in to your Hubspot account (if not already logged in)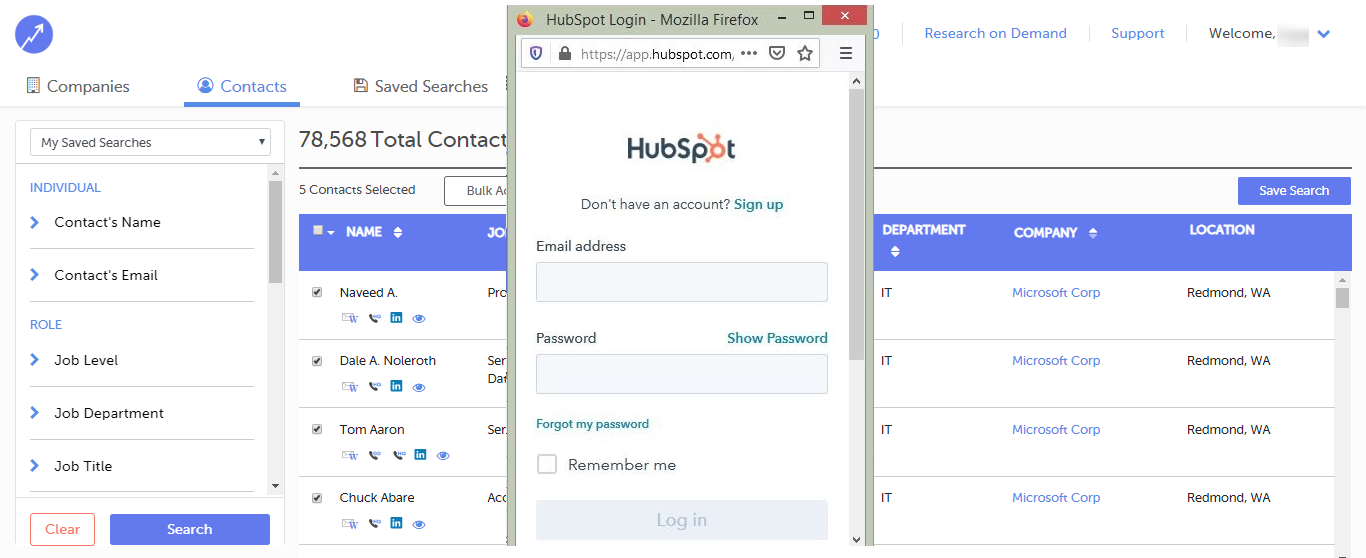 3. On the next screen, you'll be required to choose your Hubspot settings. The following options will be available:
1)Prompt for Workflows.
2)Prompt for Contact Owners.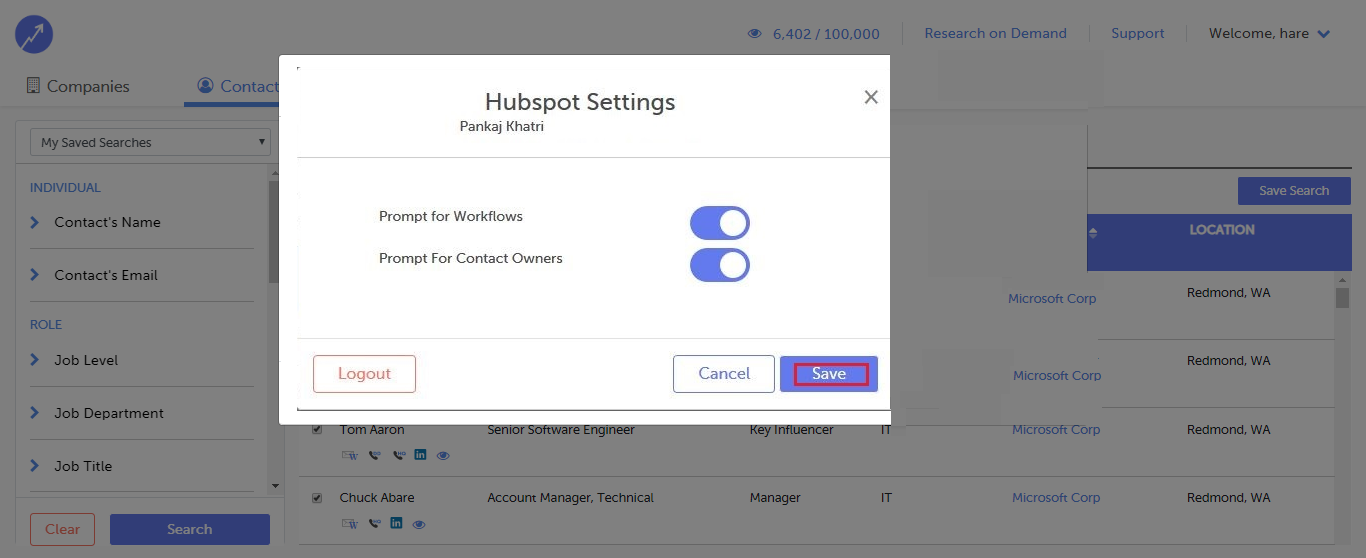 4. You can opt for one or both the options. Whatever action you choose will be applicable to all the contacts you are exporting.
5. When you opt 'Prompt for Workflows', you'll get a list of available workflows to choose from. Select a workflow for your contacts and click 'Next', You can select multiple workflows from the list. This is optional.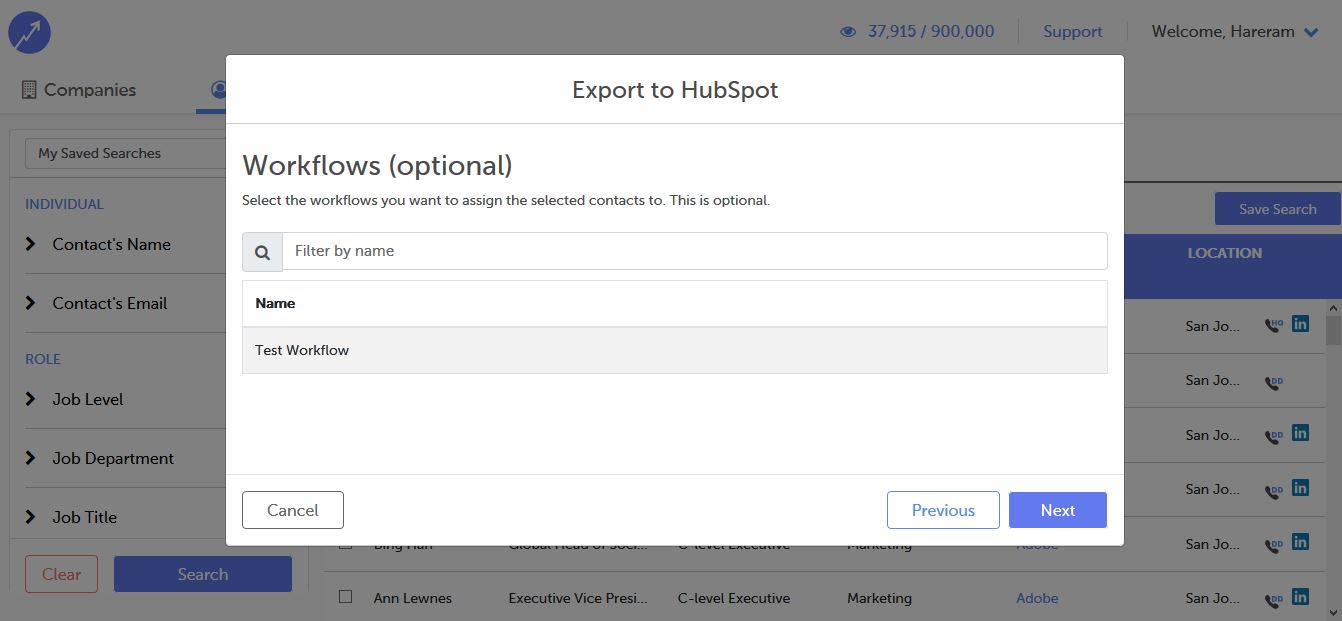 6. When you opt 'Prompt for Contact owner', you'll get a list of active Contact Owners to choose one from. Once selected, click 'Next'. This is an optional.
7. If SalesIntel discovers any duplicate email addresses, you'll get a duplicates pop-up.
You can resolve duplicates by:
Updating all fields

Updating empty fields only

Skipping duplicates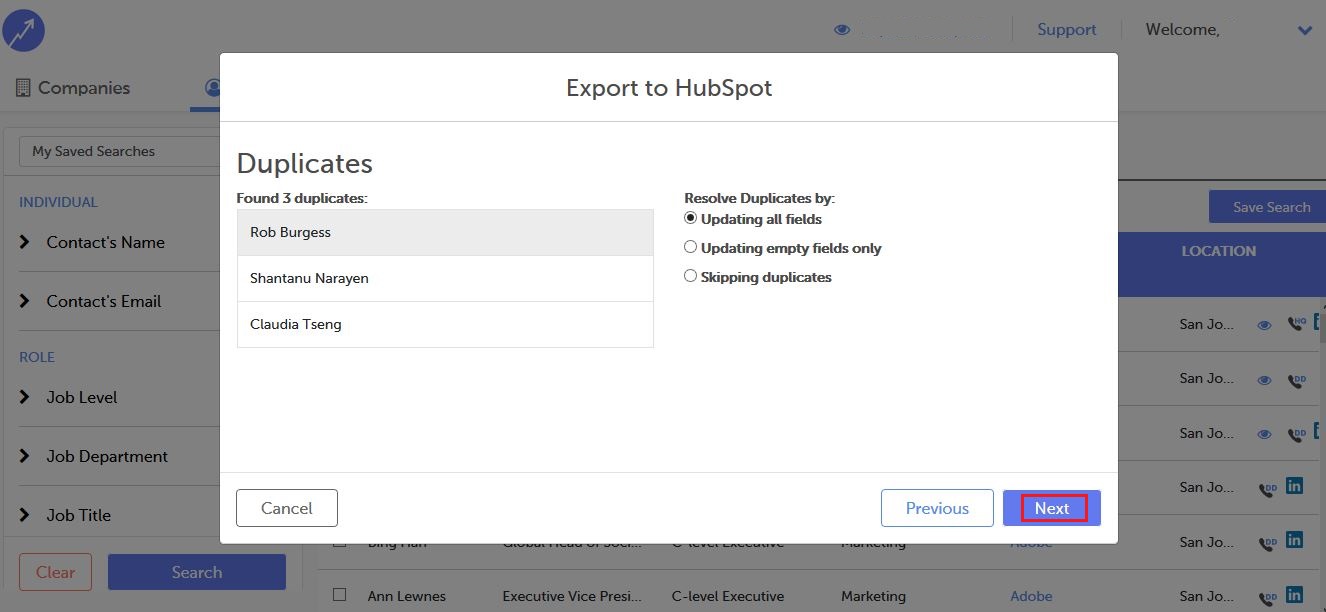 8. Based on the options you selected, the export process will begin.
9. Once exported, a success message will pop up and you're done. The contacts will be exported under the contacts section of Hubspot.
ii) Contact Mapping:
1) Click on the Hubspot Settings tab from the drop-down menu on the top right.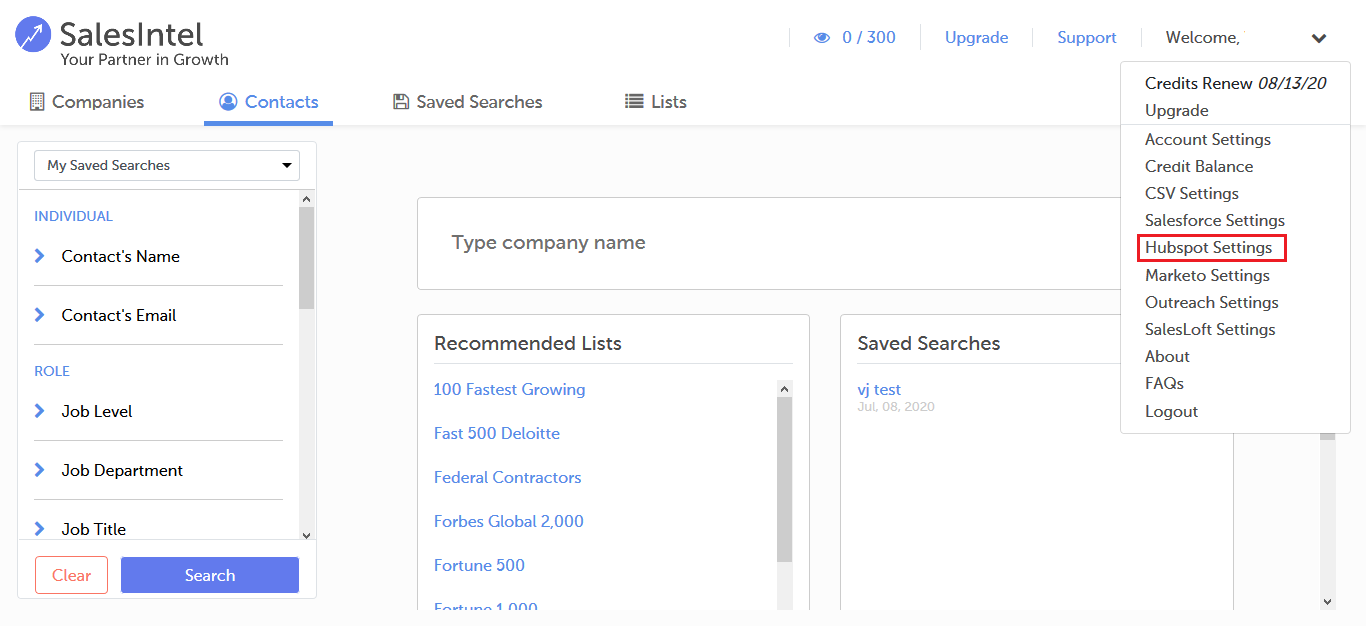 2) Click on Contact Mapping.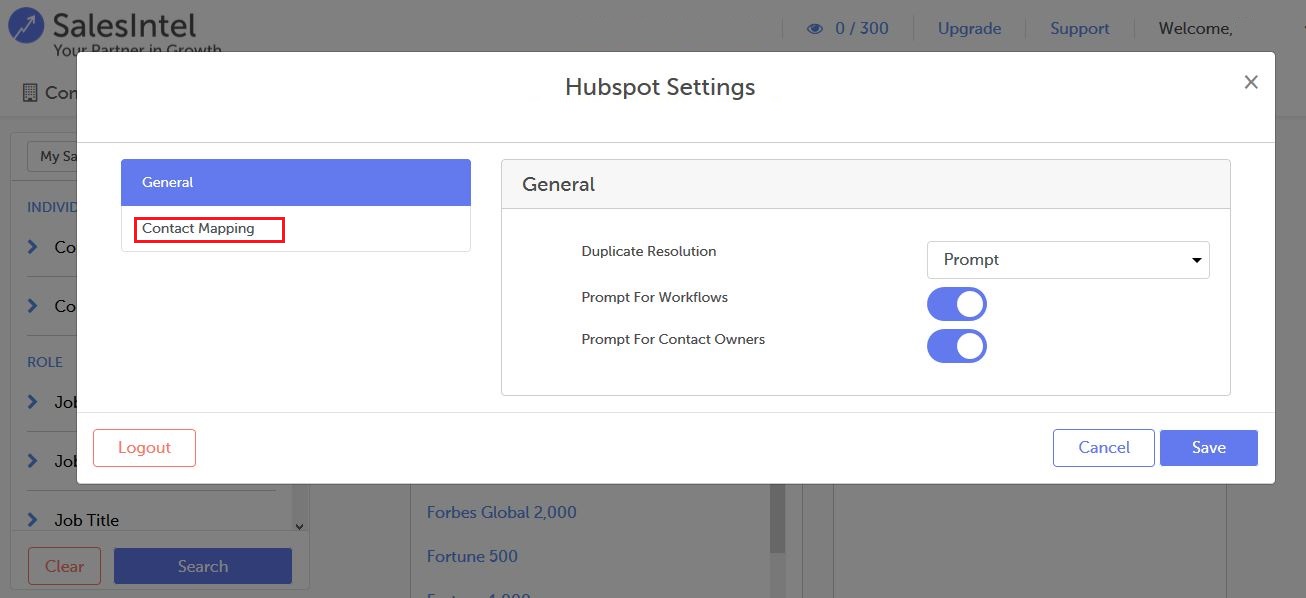 3) On the next screen, you can map fields as per your exporting requirements.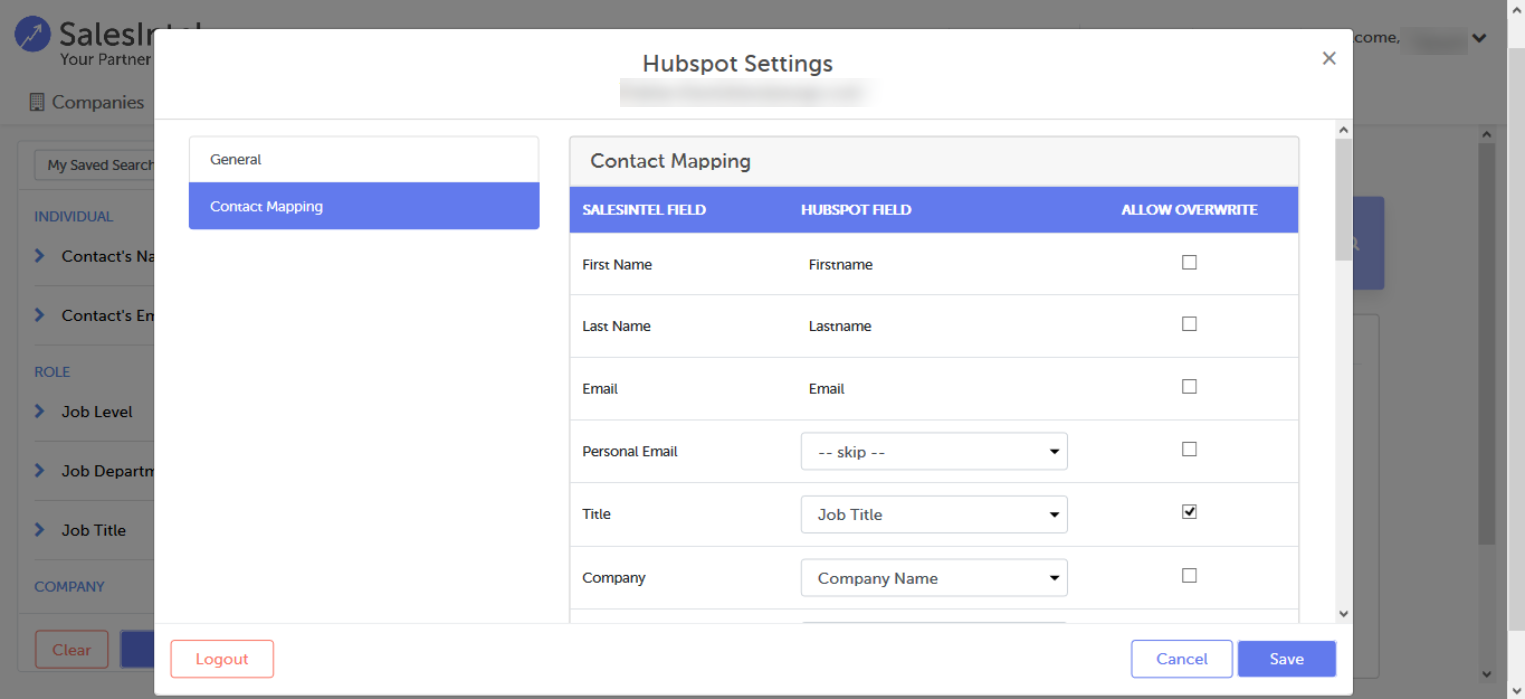 Note: We cannot customize the fields for First Name, Last Name, or Email address as we use these for unique identifiers..)
4) While exporting contacts you are required to check the ALLOW OVERWRITE field so SalesIntel can update the information in Hubspot.
5) After mapping the fields click on save.