VisitorIntel allows you to see companies that are viewing your website. By adding the javascript tag to your web pages we are able to triangulate visitor data to provide you with an aggregated format.
VisitorIntel helps you to:
Focus SEO and other marketing campaigns on prospects visiting your website.

Capture warm leads for sales by identifying companies starting their buyer journey.

Understanding the impact of your marketing campaigns on driving website visitors
Get more tips and best practices for using VisitorIntel here.
Once you log into SalesIntel, click VisitorIntel, on the next screen you will be able to see a snapshot of your website's visitors along with their complete activity log.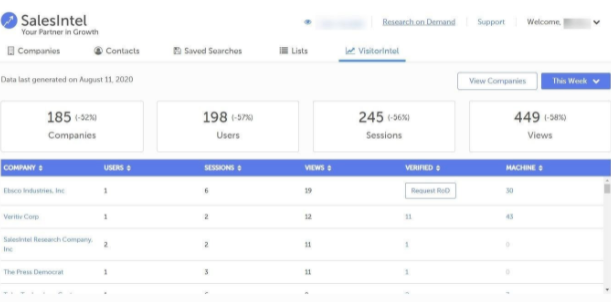 SalesIntel will keep updating the visitor stats on a daily basis. In Addition, you can review various time ranges by using the Time Range filter.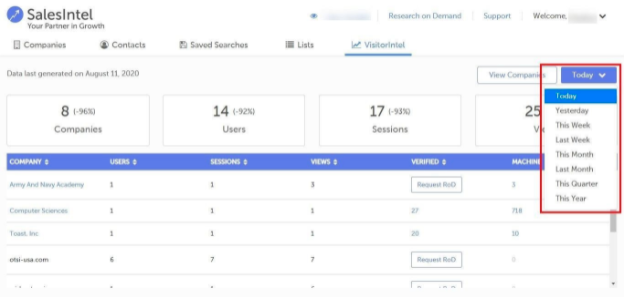 Note: Today's visitors will be compared to yesterday's visitors, this week visitors to the previous week and so on.
VisitorIntel is not able to collect data for any timeframe prior to the javascript tags being added to your webpages.
Companies tile shows the unique companies who visited your webpages. If a company is in SalesIntel, it will have a blue hyperlink to the account profile. If the company is not currently in SalesIntel, you will have the ability to request our research team to investigate and build out their account profile.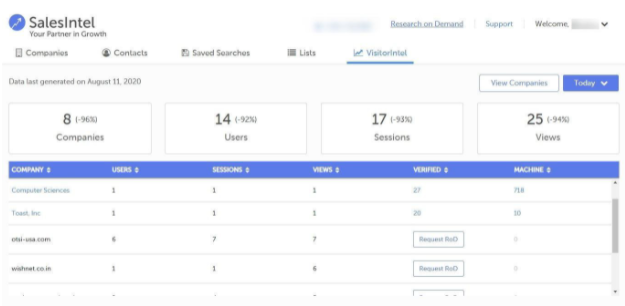 Important Note:
You can only raise a ROD request (research on demand) if you have ROD credits within your SalesIntel account, for more information on it please contact

support@salesintel.io

and someone will be in touch with you.

To View only Companies that exist in our SalesIntel database you need to click on

View Companies

, this will redirect you to the companies in a search list allowing you to further filter on additional firmographic, technographic, or intent data.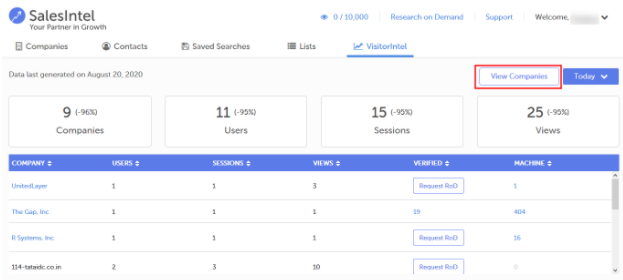 Users tile will give you information about the total unique user counts who have visited your website.
Pro Tip: The more users your website gets from any company, the more aware they are of your product.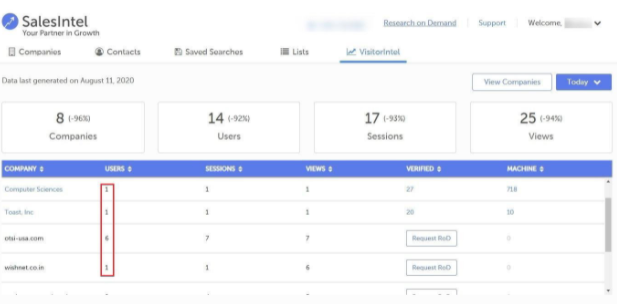 What is the Sessions title within VisitorIntel?
A Session is a group of user interactions with your website that take place within a given time frame. A single user can open multiple sessions. Those sessions can occur on the Same day, or over several days, weeks or months. As soon as one session ends, there is then an opportunity to start a new session.
A session is equal to any portion of 15 minutes. For example: if a user stays on your website for 45 mins it will be calculated as 3 sessions.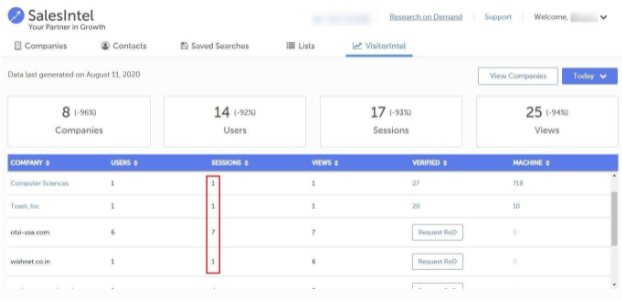 Views aggregate the number of web page views by the users at an account.
Pro Tip: Views indicate the level of interest a company has in your product and their position in the buyer's journey.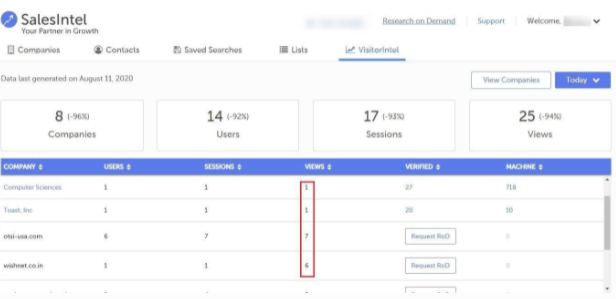 What are the benefits? VisitorIntel will give a list of companies that are viewing your website. You can access the contact list and narrow your search down to find the perfect contacts at the companies that are already viewing your pages.
Additional Resources:
Watch this Webinar to get all the tips and tricks to get the most out of VisitorIntel.
Watch this Webinar to learn how VisitorIntel can be used to succeed at ABM.