What are Human Verified Contacts/Companies
Human verified contacts are manually verified by humans wherein the contact/company information is accurate.
Did you know? : SalesIntel calls every phone number and emails every address before it's allowed into the system.
What are Machine Processed Contacts/Companies
Machine processed contacts/companies are the contacts and companies information which are not manually verified by humans, they are next to accurate however.
Important note: SalesIntel allows only human-verified contact information to be exported.
If you are searching through Machine processed contacts and you find one that you would like to be verified by our research team you can click on "Request Verification." This will send a ticket to the research team and they will research the contact.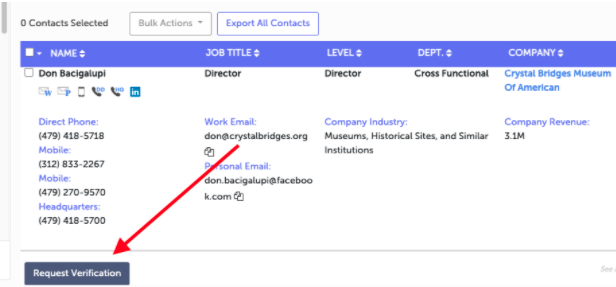 If there are multiple contacts that you want to be verified by our research team you can do so by clicking on the blank boxes, then selecting "Bulk Actions" and selecting "Request Verification."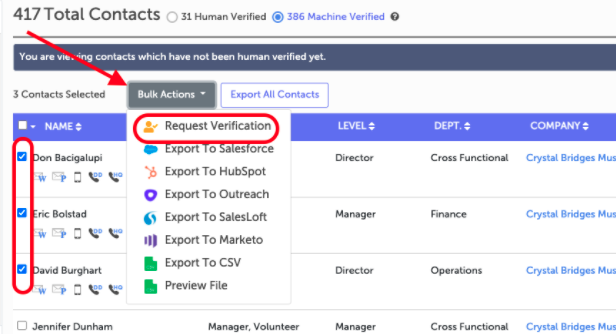 Note: Requesting verification will use a research credit.
If you are looking at either human verified or machine verified contacts and there is something incorrect with the data you can report it by clicking "Report."

Once you click on "Report" let us know what is incorrect on the record.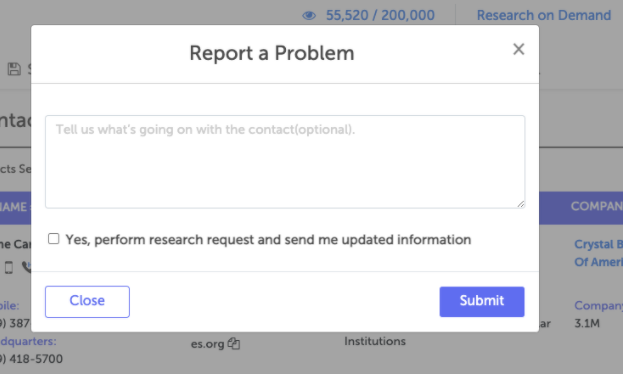 Note: Reporting incorrect information will not cost you a research credit.
Additional Resource:
Get this eBook to learn how data quality directly impacts revenue.