Exporting lead/subscribers going to Hubspot will have you select options before proceeding, one of these is selecting a Workflow. Below is an image that may pop up when you selected a workflow that is currently turned off in your Hubspot.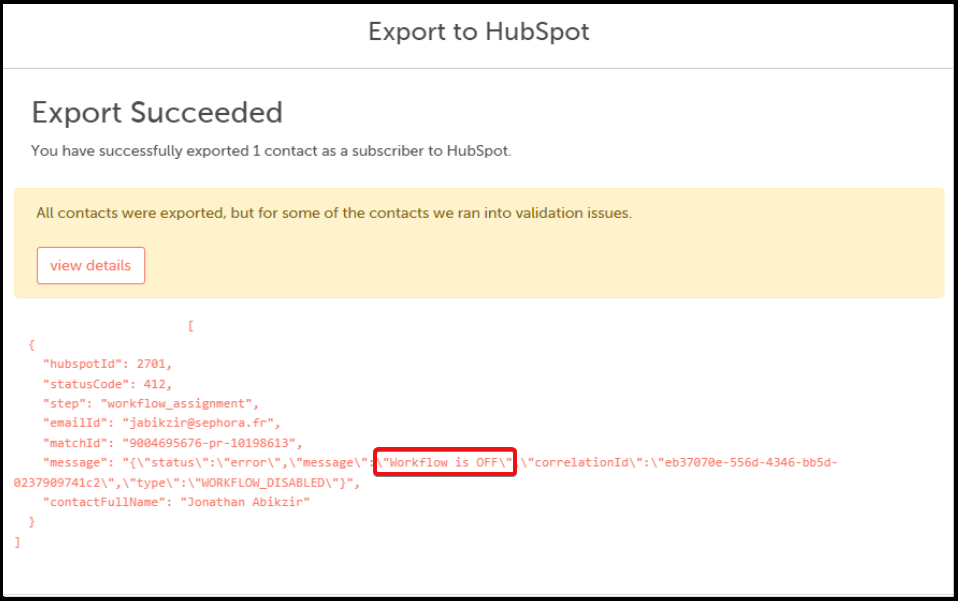 How to Resolve
Disclaimer: SalesIntel Support provides suggestions on how to best leverage the contact data and company insights accessible to you. They are not responsible for implementing updates to your Hubspot instance. Changes should go through and be completed by your HubSpot Administrator. Implementation of our suggestions may differ depending on your organization's setup and running Hubspot.
Login to Hubspot as an Admin User.
Go to Workflows tab.

Select the Workflow that you're trying to use during the Export process from SalesIntel.



Hover through the name and click Edit.


Click Review and Publish.



Select either you want to enroll existing matches or new contacts that will match the condition. Then click Turn On.
Note: Make sure to review all config including the conditions before turning the workflow on.



Try Exporting your contacts again from SalesIntel and check if it will be completed successfully.
In case you encounter another error, please contact support.