RevDriver allows you to access SalesIntel's data from wherever you do research and prospecting, including company websites, LinkedIn (including Sales Navigator and Recruiter), Salesforce, Salesloft, and Outreach. Use RevDriver to fill in or update buying center contacts on identified accounts of interest, and discover valuable insights about key opportunities.
From RevDriver, you can view, filter, and export data, similarly to the SalesIntel web app.
In this article:
Who Can Use RevDriver
Three types of RevDriver users are available:
SalesIntel Admins and Users. These users can log in to RevDriver using their standard SalesIntel credentials to get full access to their account credits and any integrations that are already set up.
SalesIntel Users who are "Chrome-Only" users. These users will receive an invitation from their Success team or SalesIntel admin (or they may receive a password directly). Once you accept the invitation and set up a password, log in to RevDriver using these credentials. These users cannot access the web application and will receive a log in error if attempted.
RevDriver Free Account Users. These users can sign up directly from RevDriver after installing and will get a limited number of credits per month. No payment or credit card is required. These users cannot access the web application and will receive a log in error if attempted.
Install RevDriver
To install RevDriver, visit the Chrome web store listing and Add to Chrome. A permissions notification window will pop up - click Add Extension. These permissions are required for RevDriver to read the data on the page and surface contacts/companies that are relevant to the content being consumed. RevDriver will never change your data and does not read the page for other reasons.
After installing RevDriver, you'll see a short tour advising you how to add the shortcut to your toolbar and use the extension.
To log in:
SalesIntel Admins and Users. If you already have an account, log in with your existing credentials or ask your admin for SalesIntel access.
SalesIntel Users who are "Chrome-Only" users. After accepting your invitation, you will be routed to the web application to log in. However, you do not have permissions to access the web application and will receive an upgrade warning like the one shown below. Instead, log in to the RevDriver extension directly using the credentials that you've just set.
RevDriver Free Account Users. Click the sign up link and enter your details. You will receive an email to verify your account. Once verified, log in to RevDriver with the credentials that you've just set.
After logging in, make sure you access a supported page to generate RevDriver content. Chrome Web Store pages, Chrome's homepage, and other internal Chrome pages are not supported and do not deliver content. If you see the message below, try navigating to a company page, like salesIntel.io, to see RevDriver's content.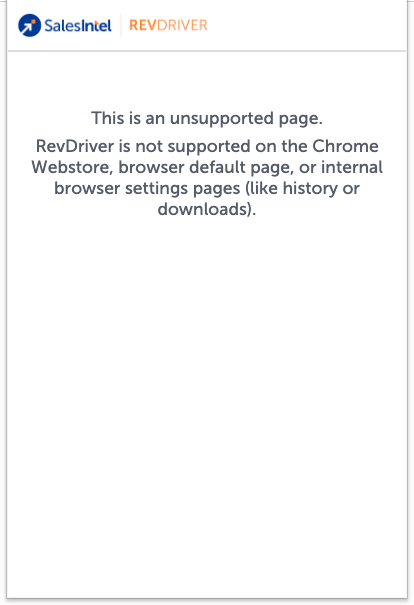 RevDriver Functionality
Contact Records
In the main panel, RevDriver shows matching contacts, separated into Matched and Unmatched contacts. A contact record can be clicked to expand the record and see all available data. For accounts with unlimited Reveals, the data will be shown unmasked. For accounts with paid Reveals, masked data is shown. To unmask it, click the Reveal button. This step will cost one credit. If you choose to export the record, you will not pay for it again.
Matched Contacts: Contacts for which SalesIntel has a match in the data set.
Unmatched Contacts: Contacts that do not match to SalesIntel records.
You can also view company details from this view by clicking on the company name.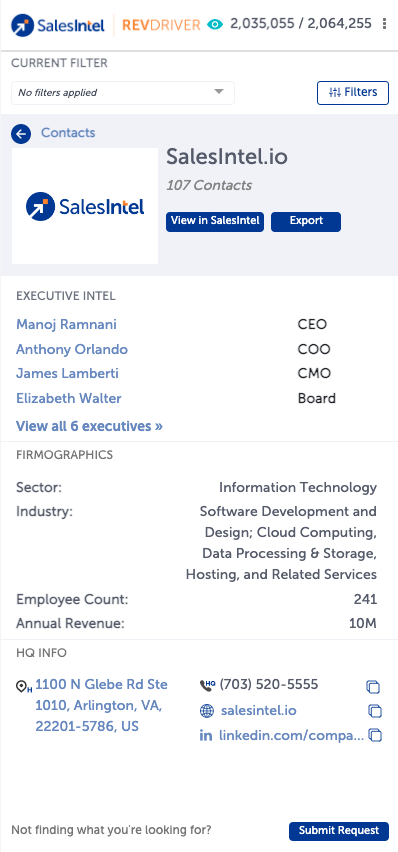 Filters
Use filters to focus more specifically on certain personas or buying centers. Click the filter button and configure the filters. Filters can be used one-time or can be saved and reused. Your saved filters can be accessed from the filter dropdown, and will persist as you navigate, until you clear or change them.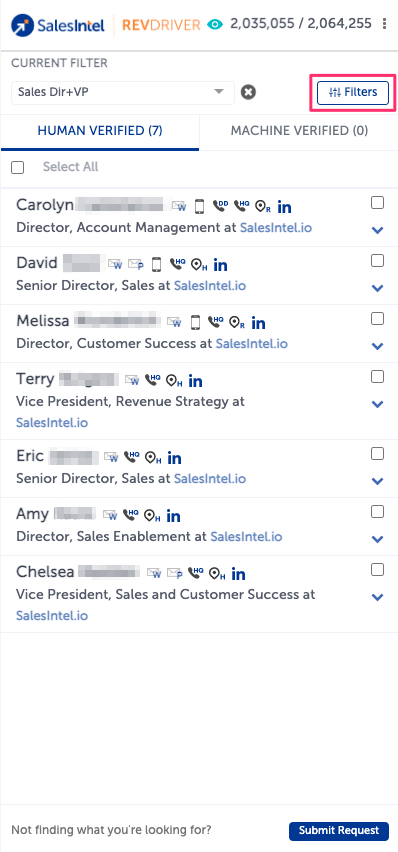 To update a saved filter, select the filter and click the filter button to view the current settings and make any desired changes, before saving again.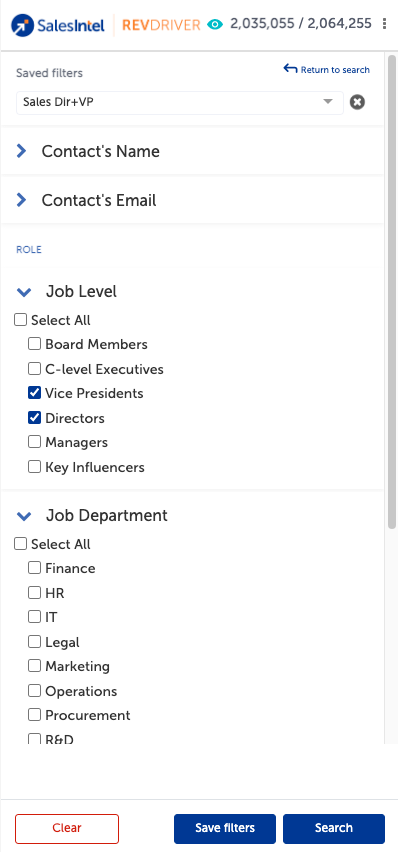 Use the Accuracy Tier filter to filter matched contacts by the level of accuracy of your choosing. Simply select the accuracy tiers you want to see and your results will update automatically.
For more information on what each accuracy tier means visit our article: Understand Human, Email, and Machine Verified Contacts.
Add to List
Note: Adding to list is only available for full SalesIntel Admins and Users, who have access to the web application.
Adding to a list can be useful for doing a deep-dive on contacts later or exporting them all at once. To add to a list, select the contacts of interest by checking the boxes and then select the Add to List button that appears. You can add to an existing list or create a new one. Your list is available in the web application. More information about lists as an organizational tool is available in this article.
Export
Similarly to the web application, results can be exported to integrations or csv file. To export, select the contacts of interest by checking the boxes and then select the Export button that appears. RevDriver shares integration configurations with the web application. If you have already set up export integrations in one, the settings are shared with the other. Additional resources are available to help you export or integrate.
RevDriver Special Use Cases
RevDriver has a number of cases where it performs differently, to help surface relevant contacts based on the functionality of the web application being used. These cases extend to LinkedIn, Salesforce, Outreach, and Salesloft. Learn about each of these use cases here.